The 2 tech giants plan to pitch their cloud infrastructure platforms in direct competition to the e-tailer.
Amazon
is the leader in the cloud-computing space, thanks to the immense popularity of Amazon Web Services. The cloud-based infrastructure platform enables developers to create scalable Web-based software powered by the company's massive infrastructure.
Amazon competes primarily with
Microsoft's
Azure,
Google's
App Engine,
Salesforce.com
offerings such as Heroku and Force.com, and Rackspace.
However, Microsoft and Google offer cloud
platform-as-a-servic​e
offerings, which enable developers to run their apps on their servers, compared to Amazon's cloud
infrastructure-as-a-​service
offering that gives greater control of the entire virtual environment to developers. (Microsoft owns and publishes Top Stocks, an MSN Money site.)
Google and Microsoft are apparently planning to go up against Amazon by launching their cloud infrastructure platforms, which will compete more directly with Amazon's Elastic Computing Cloud. Amazon generates a significant portion of its revenue from Amazon Web Services, and is on track to generate roughly $2 billion from this business in 2012.
We expect Google's and Microsoft's focus on cloud offerings and their efforts to directly compete against Amazon will lead to a decline in Amazon's market share in the space. You can check out the impact of a slowdown in Amazon's revenue from cloud and other Web services on its value using this chart: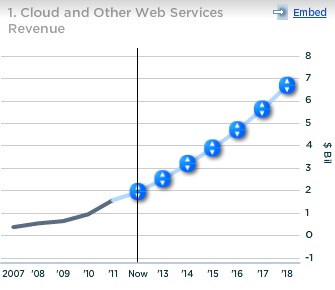 Cloud and other Web services account for around 3% of Amazon's total value. We currently have a $222 Trefis price estimate for Amazon, which stands near its market price.